Bedfordview Methodist Church
*Please refer to the latest bulletin for more information or contact the church office*
(All Covid protocols are followed and the building is sanitized after every service)
GO TO OUR PODCASTS PAGE FOR THE LATEST INFORMATION
We invite you to take a moment to know us a little better; who we are, what our ministries are all about and some general information relating to our services, by paging through this website.
We hope to see you at one of our Sunday services. For information about these, click on the 'Service Times/Info' tab or scroll down to the bottom of this page.
OUR

VISION
LOVE-GROW-SERVE
The Love of God, Grows us in Community, to serve in the World.
OUR

MISSION



God calls Bedfordview Methodist Church to proclain the Gospel of Jesus Christ for healing and transformation.
Methodist work in Bedfordview began in the 1920's, starting as a Sunday School and occasional preaching place. The congregation met in private homes, the old Village Hall, the old Bedfordview Primary School (now the Police station) and the current Town Hall that is diagonally across the road from the present church site. A church was built on the corner of van Buuren Road and de Wet Street and opened on 23rd April 1965. This church became the main hall after the present sanctuary was built and inaugurated in 1982.
A substantial renovation project was undertaken in 2018 which resulted in the expansion of the overall available space while modernising both the interior and exterior of our church's facilities. Bedfordview Methodist Church celebrated its 95th anniversary in October 2018.
Our worshiping community has evolved over the years. Today we have a wonderful diversity of members, coming from different backgrounds and living in different areas around the city.
Our worship activities mirror our diversity
We provide a variety of Sunday worship services, catering for a diverse congregation.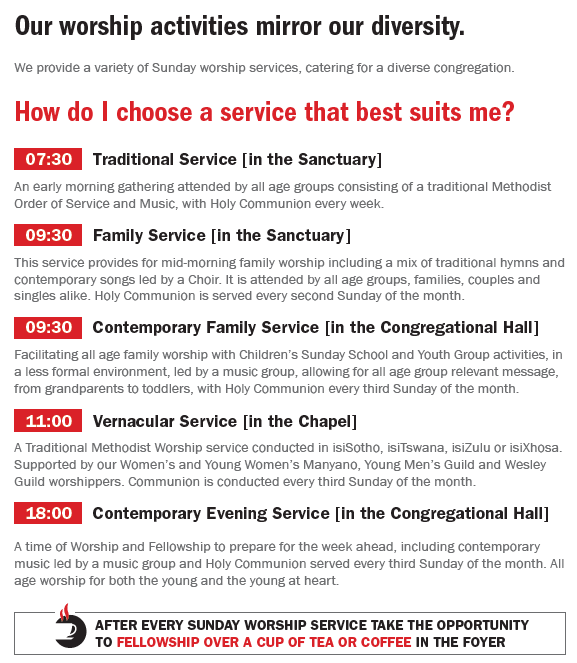 Address
Van Buuren Road & De Wet Street
Bedfordview
2007
07H30 Traditional Service
09H30 Family Service
09H30 Contemporary Family Service
11H00 Vernacular Service
18H00 Contemporary Evening Service